Well I keep being nagged for having nothing about me on this site, so to silence those who have complained, here goes....

I'm Anne, born a Lancashire lass, now a Westmerian by choice. In between-time I spent five years in London. I have an 20 year old son and live with my partner Barry in a rural area in the north of England.

I've done various work throughout my life, starting in a shop straight from school, office work for a trade union, followed by pensions negotiations for a London guild. Since having my son I've worked mainly from home, as book-keeper for my ex's business, doing letterpress printing for small firms in the area, small amounts of writing for monthly magazines, then barge painting - see my site at Canalia if you're not sure what barge painting is all about and want to know more. I now write websites and run a web design and hosting business, and provide technical support for networks; and do some small-run book publishing. Along with Barry I co-edit the village monthly newsletter and look after the parish council's website for them. I'm also an admin on The Bat! technical support forum where I help users who have problems with their e-mail client.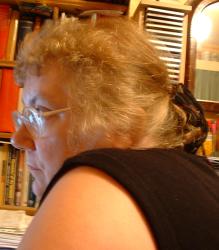 I also like to spend time reading... I love the works of EV Thompson, Alexander Cordell, Sidney Sheldon, Robert Ludlum, Jeffrey Archer, Nevil Shute, amongst others, although at the moment I'm into accounts written by women of their experiences during the Second World War, and anything historically factual - especially Mediaeval History. Ranulph Fiennes is another of my favourite authors - I'm a great admirer of his work and enjoy reading of his exploits.

Needlework, crochet and gardening take up some of my time... gardeningmore so in the better weather, though to look at the jungle now you'd never believe it! I garden organically, and reap the benefits through sharing the garden with a host of birds, bats, frogs and hedgehogs, who all help to keep the bad bugs and slugs down. Some of what we grow gets turned into wine and our herbs are used to flavour our home-made pate and jam.

I love family history and heraldry too... I've been researching the history of the Docwra families for a few years, and have an online project which you can visit Docwra Family Research Project if you have a interest in this surname.

Another great passion is glass - collecting it and learning about it. I have an online Glass Gallery. I'm also very much into amateur dramatics, and have been stage manager for the Burton Amateur Dramatic Society for the last 3 years. A recent project has been to create a fansite for the actor, Marcus Gilbert, star of Riders, Hazard of Hearts, Ghost in Monte Carlo, Army of Darkness etc.

Site designed by & copyright of Yobunny 2002. Updated August 2006