Well here it is at last, my very own bit on Yobunny. And just to start the ball rolling here's a mug-shot of yours truly (taken a while ago but hey, a guy's got to be allowed a little bit of poetic licence when it comes to photos !!) As you can see the beard and hair covers most of the face so it's not likely to scare anyone away in a hurry ... at least I hope not :-)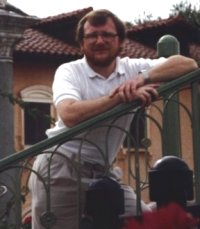 I was born and bred in West Yorkshire just over half a century ago (doesn't sound much if you say it fast) and gradually migrated North West to finally land here in Cumbria - via Leeds, Knaresborough and Pateley Bridge. Something tells me I've reached the end of my migratory travels now :-)

Enroute I managed to produce 2 great kids and 1 not so great divorce, but that's life and I ain't complaining where it's brought me to. For some 30 odd (at times very odd !!) years I worked as an Industrial Chemist, most of it at one company, before being made redundant in June 2002. To be fair I'd had enough of smelly chemicals and the almost daily risk of being gassed or blown up ... ok, so maybe it wasn't quite that bad, but there were enough hair-raising experiences there to make it a relief when the axe finally fell !! It's an excuse to try something different now so overall a good move I think and time to make more of my hobby of electronics and computers.

Since landing here in Burton I've managed to make myself at home and now help to organise and publish the village magazine - including being responsible for the website ( Burton News ) - so have a peek there and tell me where I'm going wrong perhaps? Seriously, any feedback will be most welcome.

Following on from my renewed interest in electronics and computers I have started to 'put my money where my mouth is' as it were and launched a PC repair business. ( Burton Tech Support ) Again feedback on the site and/or contents will be welcome.

That's about it for this short introduction, apart from saying a huge Thank You to my partner Anne who is responsible for this website, suggesting I take over Burton News website, and most of all for being there !

Site designed by & copyright of Yobunny 2002. Updated August 2004