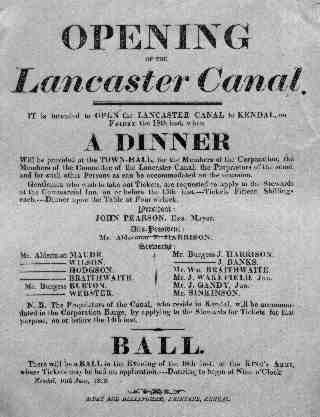 The grand opening of the Lancaster Canal took place on the 22nd November, 1797, with a cavalcade of six boats from Lancaster to the Lune Aqueduct and back.

A contemporary report said, "The Committee meet in the office in Lancaster at 9.30 a.m., are to proceed from there, accompanied with colours and music, to the Canal Bridge in the Fryerage, where the boats must be placed ready to receive them in the following order: Committee Barge, Committee, Leeds and Liverpool Committee and the most respectable of the landowners.

The "Bee" and the "Ceres" are to be fitted up for the particular friends of the Committee and the most respectable persons in Lancaster.

Two of the trading boats belonging to the Company and the "Elephant" are to be fitted up for the Proprietors in general and are to follow in order."

Following the boat journey, a procession took place through Lancaster, to the Kings Arms Hotel in Market Street, for dinner.
Above right: Poster advertising the Lancaster Canal's Opening Dinner and Ball
Copyright: Canalcaholic 1999
Last revised: August 2004