As originally envisaged the canal would have reached West Houghton, but due to financial problems, and difficulties with neighbouring canals about various routes, the Lancaster Canal only went as far as Wigan. The section to the south of the River Ribble, from Walton Summit, was never joined by water to the northern end at Preston, but was linked by a tram road of about five miles long. This track was carried over the River Ribble on a wooden structure known as the tram road bridge. The original was washed away by flooding, and replaced by a sturdier copy which can still be seen, although it now only carries a footpath. The tram road had a double track with L-section iron rails set onto stone sleeper blocks and the waggons were drawn in trains of 6 to 8, each carrying about two tons.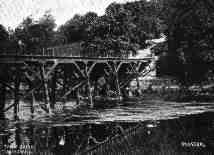 Right: The wooden tram road bridge over the river Ribble in Preston
Freight had to be off-loaded at Preston basin and be put into tram waggons which were then hauled by horses along the tram road to Walton, where the cargo would be reloaded onto barges to continue its journey by water. The reverse, of course, applied to freight travelling northwards to Lancaster and Kendal, and the opening of the tram road in 1803 had the effect of almost doubling the gross income of the Company during its first year of operation.


The Walton Summit branch of the canal ran from the end of the tram road at Walton Summit to the bottom of the locks at Johnson's Hillock. The south end of the Lancaster Canal originally continued on to Wigan, but the stretch beyond Johnson's Hillock was first leased and later sold to the Leeds and Liverpool Canal Company. The summit branch included the Whittle Hill Tunnel, which after several cave-ins, was opened out in 1838 to form two short tunnels.
Copyright: Canalcaholic 1999
Last revised: August 2004